---
Save 85% OFF on iPage today
$ 1.99/mo
Why should you choose iPage?
Best Cheap Web Host
Unlimited Hosting
Enhanced Security & Support
Save 85%. Get Started Now.
Company Information
iPage is the most popular web host in low-budget hosting category. But the features, support and hosting experience provided by the company are at par with several expensive web hosting companies. So it clearly is a wise choice to make for hosting your blog or business website.
iPage was started by Thomas Gorny in the year 1998. But it re-launched operations as a full web hosting provider in October 2009. Since then, the company has made tremendous progress in leaps and bounds to rank amongst the top web hosting companies. Currently, iPage is owned and managed by Endurance International Group (EIG), which is also the owner of several other popular hosting brands like, Bluehost, Hostgator, Fatcow, A Small Orange, Hostmonster to name a few (making EIG the biggest name in web hosting industry). iPage's platform serves more than 2 million websites worldwide. The company has its headquarters in Burlington, MA, USA and several offices across the globe.
IPage promises to keep hosting simple and focus most efforts on 3 things – customer websites, their email and their online security.
iPage Hosting Products & Services
iPage is predominantly a Shared hosting provider, though they offer VPS hosting and Dedicated hosting packages too. Recently, they have also started offering managed wordpress hosting service, but it hasn't gained much ground yet.
Shared Hosting
iPage offers a single shared hosting plan called the iPage Essential Plan. This all-in-one hosting solution has everything that a webmaster generally requires – from website design and builder tools, email, content management system to marketing credits and analytical tools. This plan is an unlimited hosting plan, meaning that it offers:
Unlimited storage and bandwidth – Though the company does not put any set limits on the disk space and bandwidth utilization, but they still expect the customers to comply with fair usage policy, and consume resources within normal limits of website operation.
Unlimited domain hosting – The customers can set up any number of websites on a single shared hosting account, but the total resources used should comply with the terms of service.
Unlimited email addresses – You can create as many email addresses as you wish, but each mailbox has been capped to 500MB storage or 10,000 email messages.
Unlimited MySQL databases – You can create any number of MySQL databases with this plan. PhpMyAdmin interface is also provided.
The Essential plan comes with a free point-and-click website builder and thousands of themes & templates. If you want to use a CMS, like WordPress, Drupal or Joomla, it is very easy to install it using the 1-click install feature. Additionally you have access to photo galleries (like Gallery2, ZenPhoto etc.), forum software, poll software and wiki apps through step-by-step wizards. There are over 70 free website applications that you can install using SimpleScripts.
For those of you who are looking to set up an ecommerce website, iPage shared web hosting plan comes loaded with several useful ecommerce features – a free online store, integration with PayPal for payment processing and a choice of shopping carts like AgoraCart, ZenCart, PrestaShop, OSCommerce, TomatoCart etc.
In addition to the above hosting features, customers of this plan also get 1GB of free cloud storage from JustHost (Remember Justhost is another web hosting company owned by EIG). Not only this, advertising credits worth $100 each for Google Adwords and Bing/Yahoo search are also included.
The iPage Essential shared hosting plan is one of the cheapest plans available at just $1.99 a month. iPage offers the same features and quality like any other web host, so the cheaper the deal the better. This makes iPage very popular choice of web hosting. But an important point to note here is that the discounted price of $1.99 is available only on initial hosting term, the renewal price is pretty high at $10.95/mo, which is a huge disappointment for us. Also there is a lot of upselling. So make sure that you uncheck the various add-ons during the signup process.
VPS Hosting
If your website is growing and you need high performance and flexibility, you can opt for Virtual Private Server (VPS) hosting by iPage. It comes with easy-to-use cPanel and gives much more control than shared hosting. With VPS you get the flexibility and security of cloud architecture. There are 3 plans available based on the resources that you require. If you are unsure of the right plan for you, you can start at the basic plan level and upgrade as the demand increases.
Basic Plan – It includes 1GB RAM, 40GB storage and 1 TB bandwidth with 1 core CPU and is priced at $19.99 a month.
Business Plan – It includes 4GB RAM, 90GB storage and 3 TB bandwidth with 2 core CPU and is priced at $47.99 a month.
Optimum Plan – It costs $79.99/mo and offers 8GB RAM, 120GB storage and 4 TB bandwidth with 4 core CPU.
Dedicated Server Hosting
iPage's Dedicated servers come in 3 different configurations and are Linux based. These are classified on the memory, storage and bandwidth requirements and cost $119.99/mo onwards. These plans are called Startup, Professional and Enterprise. They come with cPanel and CentOS operating system.
WordPress Hosting
iPage also offers dedicated WordPress hosting packages. There are 2 plans to choose from – WP Starter and WP Essential (costing $3.75 and $6.95 respectively). These mostly differ on the performance, security and support capabilities. The WP Essential plan comes with enhanced security features, offers ultra fast environment and includes priority support by WP experts. Both plans though include customized control panel, pre-installed plugins and handpicked set of themes.
iPage Control Panel
iPage uses custom vDeck control panel for its shared hosting plan. vDeck is not as popular as cPanel and seems limited and less user-friendly to the new or inexperienced users. But iPage has done a good deal of customization to make it easy to use and navigate around. It has been designed and organized with well laid out icons for each site administration task.
The tools have been arranged in defined categories – Website, Email, Domain, Marketing Services & Additional Tools. It is very simple to navigate and perform tasks like adding a domain, upload files, create new email account, create a site using site builder etc. SimpleScripts allows you to install hundreds of web apps like WordPress, Drupal etc. with a few clicks. Your account and billing information is also accessible through this control panel. You may use the option of video walkthrough to learn how to easily get around in the control panel.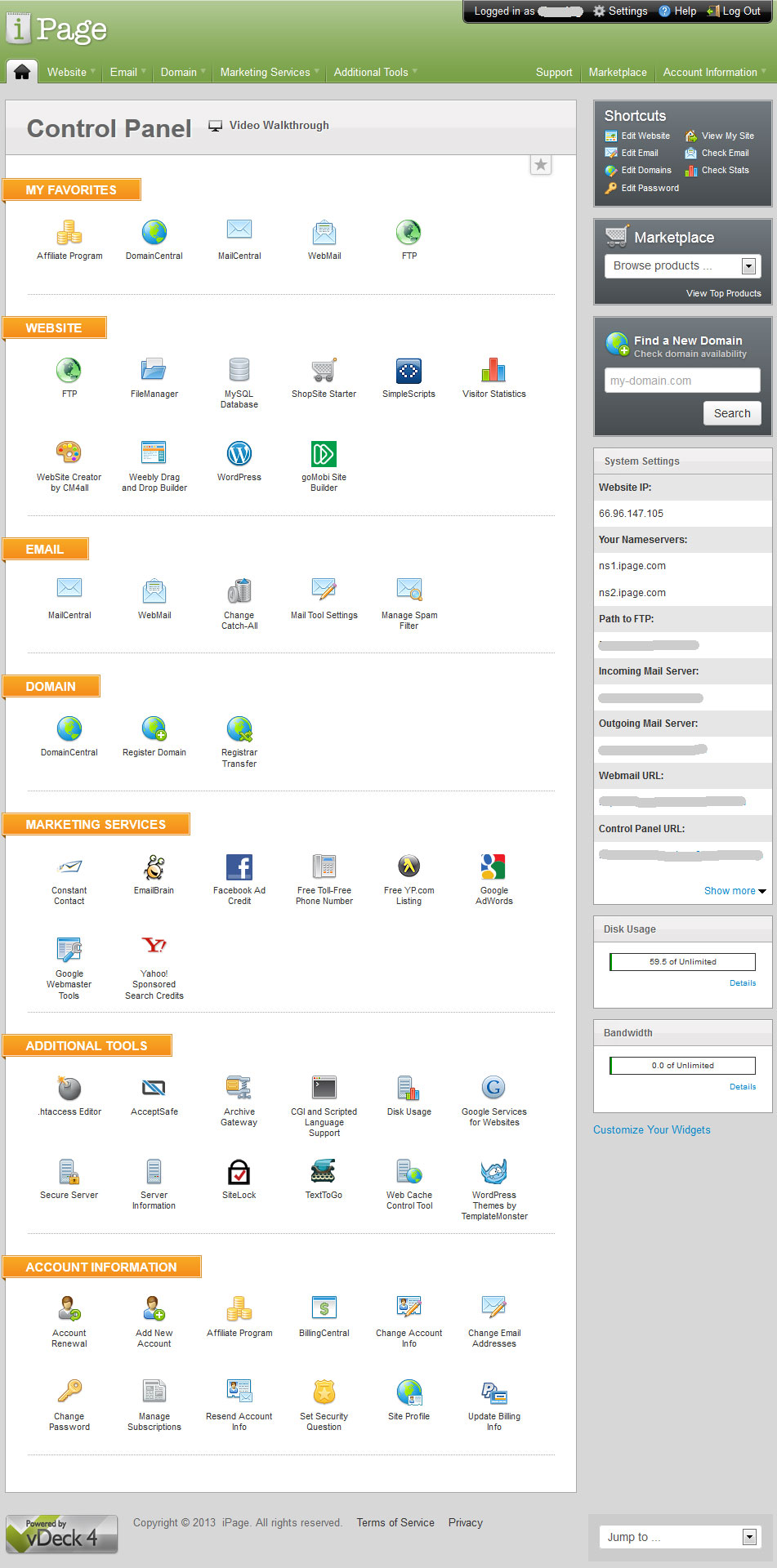 iPage Website Builder
iPage hosting comes with great tools to design and build your website. Weebly drag-and-drop website builder is one such tool that makes the entire process of creating and publishing your website very simple and interesting. You don't need any complex programming skills with Weebly, you just need to choose a design template (from hundreds available), and then as the name suggests just drag the elements you want to use and drop them in the layout where you want them to appear.
You could add images, videos, text, galleries, social media icons or slideshows into your website, create as many pages as you like, add/edit/delete content as you want and then once done, publish it with a single click. Within seconds, your website will be online.
iPage Green Initiative
iPage prides itself in being a green web hosting company. For every KWH of energy that is used by the company in its offices and datacenters, it buys Renewable Energy Certificates (REC) of twice that amount. This offsets their energy use by 200% and greatly helps in reducing the carbon footprint.
When you host your website with iPage, you can use one of the several iPage's green badges and certificates on your website to certify to the visitors that your site is eco-friendly and 100% powered by wind energy.
iPage Security & Uptime
As the internet grows, so do the security threats. Any hosting company cannot guarantee 100% security of your website, but a good web host will make the best effort to create a secure hosting environment that keeps the hackers as much away as possible.
iPage shows that it cares for the security of customer websites through several features that it implements like firewalls, pooled structure, spam scanning, daily malware scans, encryption practices, database lockdowns etc. IPage is amongst the fist web hosts to incorporate the SiteLock Security Suite. Their sysadmin team is capable of quickly identifying and fixing any security breach in the network.
Apart from constant monitoring of the network, iPage invests in good infrastructure and latest hardware. It has two datacenters in Boston, MA, USA. Both run on N+1 AC and DC power, have a pooled server environment with load balancers to improve performance and mirrored data servers to protect against downtime. UPS and diesel generators are also available along with 24/7 security. Free site backup and restoration service is also provided by iPage.
iPage doesn't provide any uptime guarantee, but the uptime monitoring statistics show that generally the service availability is around 99%.
Customer Support
There are multiple channels of customer support, via email, phone, live chat and ticketing system. The support is available 365 days a year, all round the clock. All their support staff is located in North America and they promise to answer phone calls in less than a minute.
Help Center on IPage's website includes a comprehensive knowledgebase with hundreds of articles related to hosting and site setup. There are separate sections for User Guides, Website Help, Domain Help and Email Help with a lot of useful stuff to get the customers started on the right track and troubleshoot common issues themselves.
Money Back Guarantee
With iPage hosting you are covered by their 30 day money back guarantee. So if you cancel your hosting service within the first 30 days, you get a full refund, regardless of your reasons for leaving. But the cost of domain name (if you purchased one) and any other add-ons is deducted from the refunded amount.
Post the 30-day period, you still have anytime money back guarantee. This means that if you cancel your hosting account after initial 30 days, you can ask for a pro-rated refund based on the unused hosting period.
Shared Hosting
Plan
Diskspace
Bandwidth
Websites Allowed
Email Accounts
Features
Price
Essential
Unlimited
Unlimited
Unlimited
Unlimited
Free Domain, CPanel, WordPress, Weebly, Free Security Suite, 30-day Money Back Guarantee, Free Online Store, 1GB Cloud Storage

$1.99/mo


Visit Host
VPS Hosting
Plan
Storage
Bandwidth
Speed
RAM
Features
Price
Basic
40 GB
1 TB
1-Core CPU
1 GB
1 IP Address, CPanel, Free Domain, CentOS 6.4, Free Marketing Credits, 24/7 Support

$19.99/mo


Visit Host
Business
90 GB
3 TB
2-Core CPU
4 GB
2 IP Address, CPanel, Free Domain, CentOS 6.4, Free Marketing Credits, 24/7 Support

$47.99/mo


Visit Host
Optimum
120 GB
4 TB
4-Core CPU
8 GB
2 IP Address, CPanel, Free Domain, CentOS 6.4, Free Marketing Credits, 24/7 Support

$79.99/mo


Visit Host
Dedicated Hosting
Plan
Storage
Bandwidth
Speed
RAM
Features
Price
Startup
500 GB
5 TB
2-Core CPU
4 GB
3 IP Addresses, Intel Xeon E3 – 1220LV2 3.5 GHZ, CPanel, Free Domain, CentOS 6.4, 24/7 Support

$119.99/mo


Visit Host
Professional
1000 GB
10 TB
4-Core CPU
8 GB
4 IP Addresses, Intel Xeon E3-1265LV2 3.2 GHZ, CPanel, Free Domain, CentOS 6.4, 24/7 Support

$151.99/mo


Visit Host
Enterprise
1000 GB
15 TB
4-Core CPU
16 GB
5 IP Addresses, Intel Xeon E3-1230V2 3.7 GHZ, CPanel, Free Domain, CentOS 6.4, 24/7 Support

$191.99/mo


Visit Host
WordPress Hosting
Plan
Storage
Bandwidth
Speed
Support
Features
Price
WP Starter
Unlimited
Unlimited
Standard
Standard
Free Domain, Customized Control Panel, Preinstalled Plugins & Themes, Unlimited Email, 24/7 Support

$3.75/mo


Visit Host
WP Essential
Unlimited
Unlimited
Super Speed
WP Experts
Free Domain, Customized Control Panel, Preinstalled Plugins & Themes, SiteLock, Unlimited Email, 24/7 Support

$6.95/mo


Visit Host
Top Features
---
Free Domain Name for 1 year
Unlimited Storage & Bandwidth
Unlimited Domain Hosting
vDeck Control Panel
Free Site Backups
Green Web Hosting
30-Day Money-Back Guarantee
Email & Office
---
Unlimited Email Addresses
POP3/IMAP Email accounts
Webmail
Autoresponders
Email Forwarding
Email Alias
Virus Checking
Customizable Spam Filters
Security
---
Enhanced Security Suite
24/7 Network Monitoring
Load Balancing
Cisco Routers using BGP4 protocol
NetApp Snapshot Data Backups
UPS Power Backup
Diesel Generators
Site Statistics Report
Free 1GB Cloud Storage
Website Design
---
Weebly Website Builder
Mobile Site Builder
Free Website Templates & Themes
1-click Application Installer
Easy-to-setup Wizards
Free Website Apps
---
WordPress
Drupal
Joomla
Mambo
Magento
Dreamweaver
b2Evolution
PixelPost
PHPBB
SMF
Gbook
Wiki (TikiWiki & more)
Polls/Surveys
Gallery2
Coppermine
ZenPhoto
CGI/Databases
---
Customer Support
---
24/7 Telephone Support
24/7 Email Support
24/7 Live Chat
Ticketing System
Online Help Center
Step-by-Step Tutorials
Ecommerce
---
Free Online Store
PayPal Integration
Easy 1-click installer
AgoraCart
OpenCart
OSCommerce
PrestaShop
TomatoCart
Zen Cart
Other Features
---
$100 Google AdWords Credit
$100 Yahoo!/Bing Search Credit
Free Yellowpages.com Listing
File Manager
FTP manager
Secure FTP
Unlimited FTP Accounts
Custom error pages
Custom Cron Jobs
Audio and Video support
MIME types
Bandwidth & Disk Usage Monitor
Access Logs & Error Logs
URL Redirect Tool